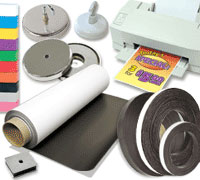 The basic raw materials of flexible magnets are barium ferrite powder and strontium ferrite powder as well as neodymium Iron Boron magnet powder. Unimagnet's flexible magnets don't contain heavy metal elements or hazardous chemicals. Flexible rubber magnets usually produce by extrusion and calendering process into magnetic strips and magnetic sheets.

Flexible magnets can easily be bending, cut, twist etc. flexible ability of the products can machined into any shape without loss magnetic energy.


Manufacturing:
Extrusion: produce into magnetic strips (width appox. 6.4mm to 254mm).
Calendering: produce into magnetic sheets and rolls (rolls and sheet can be cut or die-cut easily. The range of thickness from .015"(0.4mm) to 0.60"(1.5mm), length of magnetic rolls can exceed 60 meters.

Surface Treatments:
We can laminate various decorative images to flexible rubber magnets with PVC material ( usually include white PVC, matte white-PVC, and gloss white-PVC and colorful PVC coating),self adhesive(standard adhesive and 3M adhesive), and UV coating.
Customer design is be welcomed.

Magnetizing direction:
Magnetization is done with the most advanced magnetizing equipment to yield the optimal magnetic pulling strengths and is evidenced by straight and compact magnetic poles. Magnetic poles are parallel to the edge of the sheet.